I tried a new recipe today. From the Brownie Diet Cook Book.
It came out well. Although when I make them again, I'd reduce the amount of coconut. I found that using the whole bag was over powering. I also left out the almonds that were supposed to be in the batter since Rosebud would probably be eating some. I sprinkled a few almonds on top. The actual brownies and icing came out really good.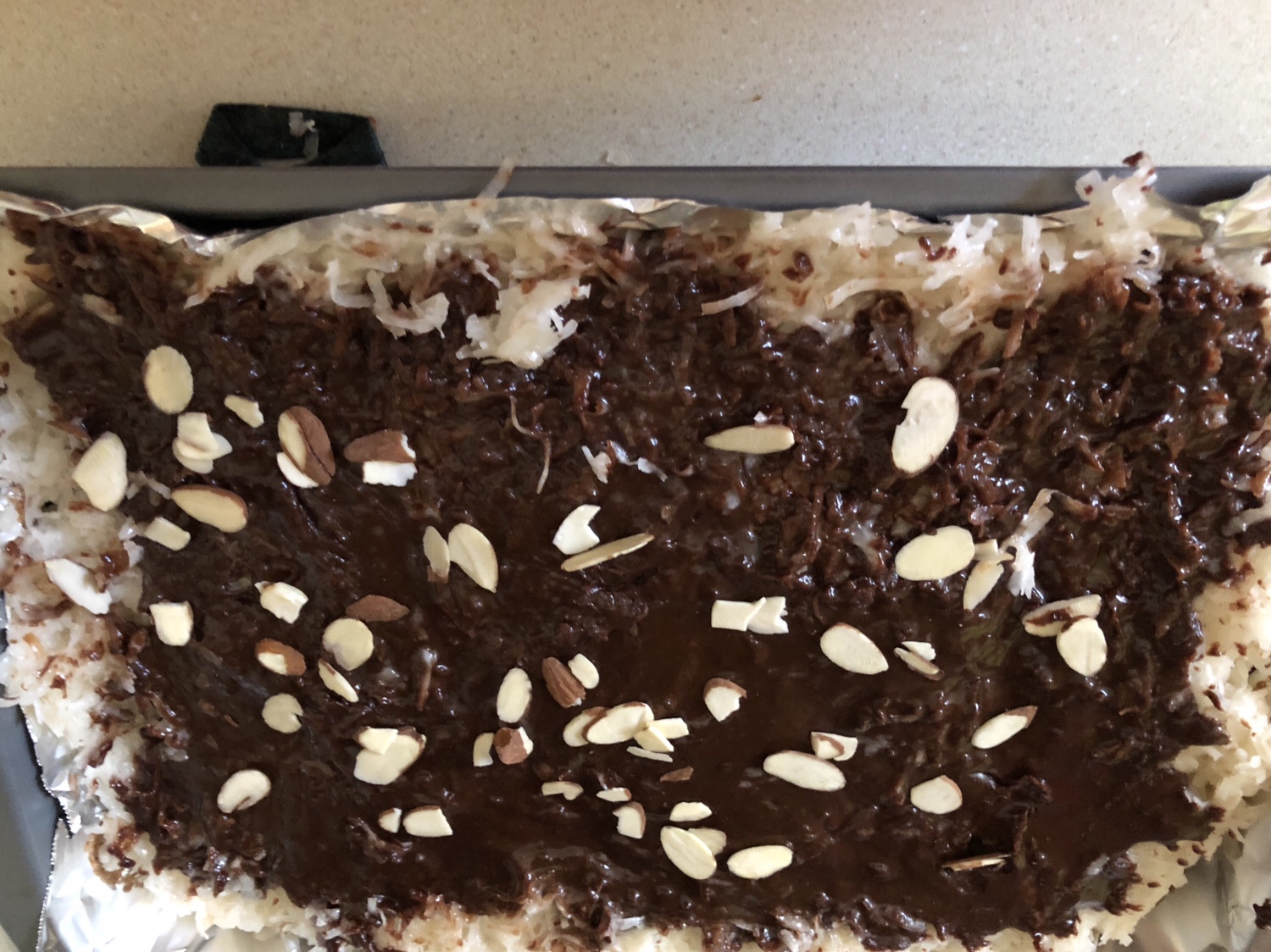 Almond Coconut Brownies
Ingredients:
1 1/2 cups butter
4 oz. unsweetened chocolate baking squares
2 1/4 cups granulated sugar
3 large eggs, beaten
1 cup all-purpose flour
3/4 cup chopped almonds
1 teaspoon vanilla
1 cup granulated sugar
1 cup milk
24 large plain marshmallows
1 14-oz. bag flaked coconut
1 cup semisweet chocolate baking chips
3/4 cup granulated sugar
1/4 cup butter
1/4 cup milk
1/4 cup chopped almonds
Directions:
Preheat oven to 350°.
Prepare 9 x 13-inch pan with nonstick cooking spray.
Melt butter and chocolate. Cool.
Add sugar. Add eggs, flour, almonds, and vanilla.
Pour into prepared baking pan. Bake for about 30 minutes or to desired doneness. Cool.
Combine sugar, milk, marshmallows, and coconut in small sauce pan.
Bring just to boiling. Spread evenly over cooled brownies.
In separate small saucepan, combine chocolate chips, sugar, butter, and milk.
Bring just to boiling. Spread evenly over marshmallow mixture. Garnish with chopped almonds.
Chill until set. Store left avers in refrigerator.