There are so many fun Halloween books for kids. It was hard to narrow it down. I was going to stop at ten, but then I found a couple more cute books that I had never heard of and just had to include them as well. Here is our list of the top 12 Halloween books for preschoolers.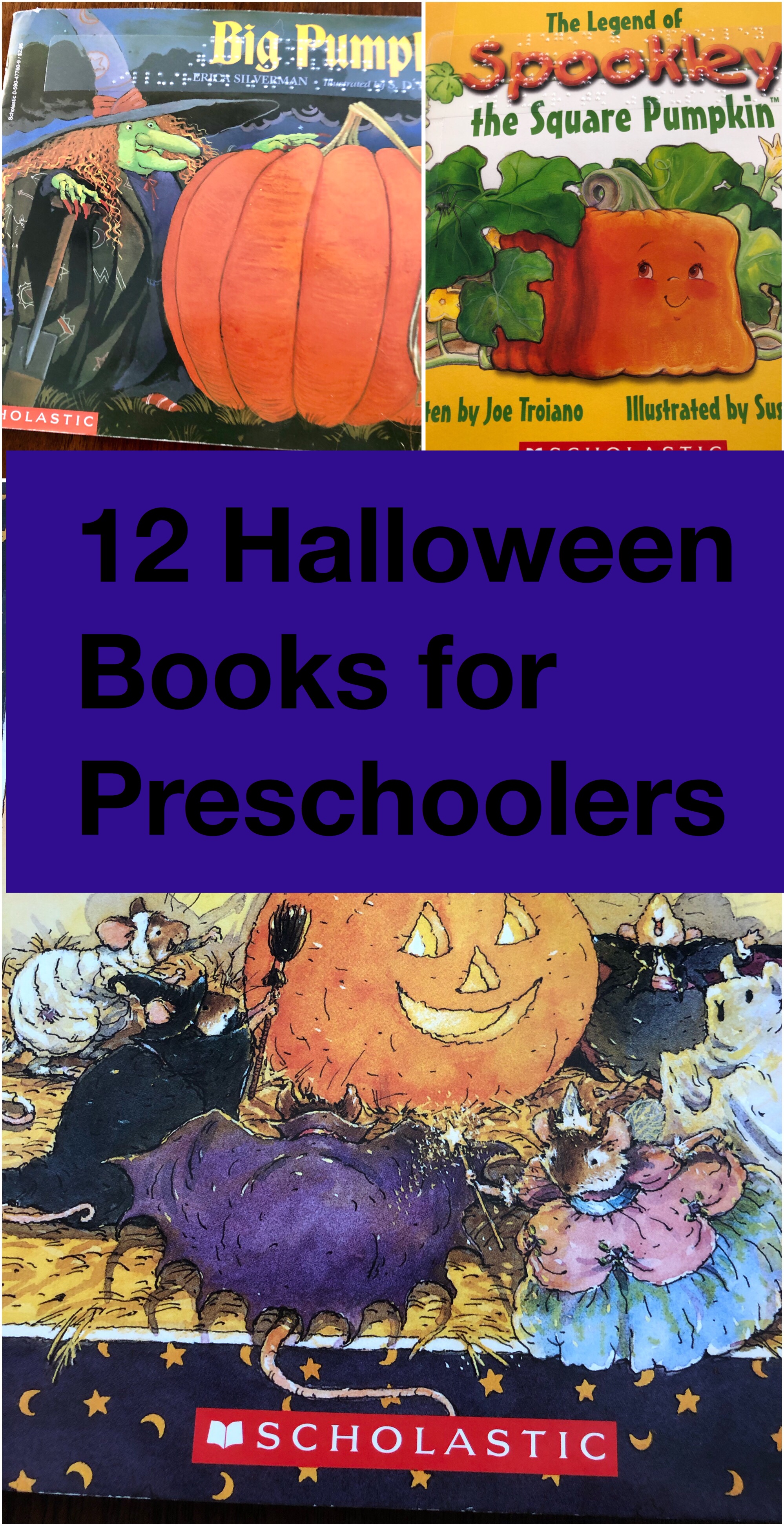 Big Pumpkin
By Erica Silverman
I first recommended this book in my list of fun Halloween books for toddlers. This is one of my favorite Halloween books for kids. It has a great message and it's a fun story. My preschoolers loved this book. Especially the audio version. Rosebud is also obsessed with it and wants to read it year round.
Description
A little bat uses brains over brawn in this not-so-scary Halloween picture book.
The witch has grown the biggest pumpkin ever, and now she wants to make herself a pumpkin pie for Halloween. But the pumpkin is so big she can't get it off the vine.
It's so big the ghost can't move it, either. Neither can the vampire, nor the mummy. It looks as if there'll be no pumpkin pie for Halloween, until along comes the bat with an idea to save the day.
How can the tiny bat succeed where bigger and strong spooky creatures have failed? You'll be surprised!
The Little Old Lady Who Was Not Afraid of Anything
By Linda Williams
I was introduced to this book last year by my pre-k class. They asked for this almost every day, so I came home and showed it to Rosebud. It was a big hit with her as well and she even wants to read this when it's not Halloween.
Description
Once upon a time, there was a little old lady who was not afraid of anything! But one autumn night, while walking in the woods, the little old lady heard . . . clomp, clomp, shake, shake, clap, clap.
And the little old lady who was not afraid of anything had the scare of her life! With bouncy refrains and classic art, this timeless Halloween story is perfect for reading aloud.
A classic and fun Halloween story that neither you nor the kids in your life will be able to resist, whether curled up at home or in a classroom or library setting.

Little Boo
By Stephen Wunderli
I have never read this book, but it looks like a fun story. We will be reading this one too.
Description
The leaves fall, the wind blows, and one little pumpkin seed tries and tries to be scary. But he doesn't scare anyone . . . not the snowflakes in winter, not the bees in spring, not even the watering can!
The wind tells him to be patient―he'll be scary soon enough. But waiting is hard. Will the little seed ever be really, truly scary?
This simple story is more than a fun Halloween read―it is a heartwarming tale perfect for any child who can't wait to grow up.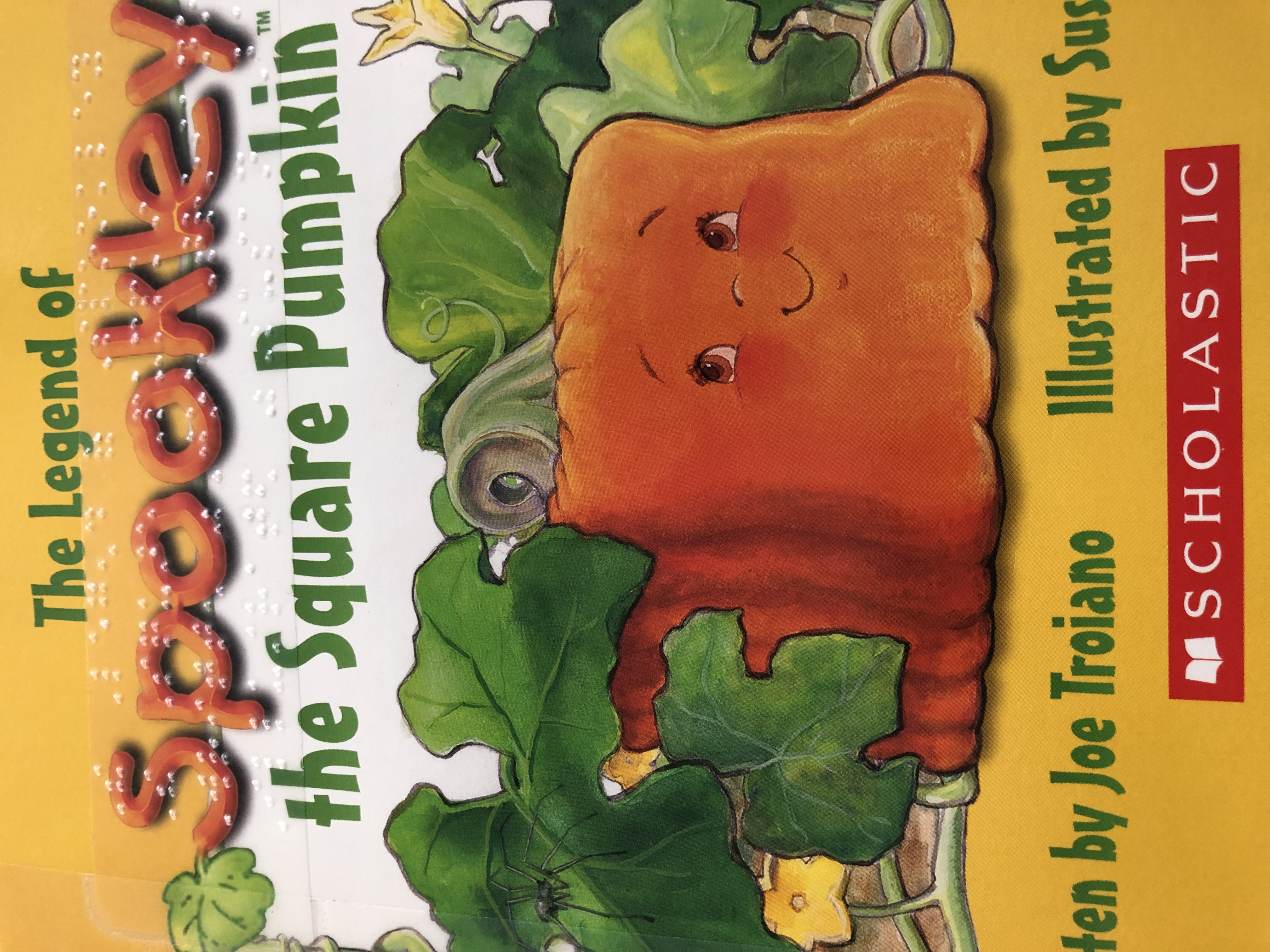 The Legend of Spookley the Square Pumpkin
By Joe Troiano
I love this book because of the messages of tolerance and that differences can be positive. Rosebud loves this book as well.
Description
One day in the pumpkin patch the strangest little pumpkin hatched . . . Spookley the Pumpkin was different. All the other pumpkins teased him, until Spookley proved that being different can save the day!
This perennial best-selling children's book delivers a special message of tolerance and kindness that is just right for fall . . . and any time of year!

There Was an Old Lady Who Swallowed a Bat!
By Lucille Colandro
This is a popular series of books. Rosebud has loved all of them that I've read to her so far and she's even laughed out loud at some of them. They have these books for every occasion. I'd highly recommend them.
Description
This spooky twist on the wildly popular "There Was an Old Lady who Swallowed a Fly" is perfect for fun Halloween reading!What won't this old lady swallow? This time around, a bat, an owl, a cat, a ghost, a goblin, some bones, and a wizard are all on the menu! This Halloween-themed twist on the classic "little old lady" books will delight and entertain all brave readers who dare to read it!
Snowmen at Halloween
By Caralyn M. Buehner
I have never heard of this book before, but have heard of Snowmen at Night which my preschool classes enjoy. We will definitely read this before Halloween! Rosebud loves snowmen books.
Description
The snowmen are getting their Halloween costumes ready for the latest picture book in this New York Times bestselling series.
Have you ever built a snowman and discovered the next day that his grin has gotten a little crooked, or his tree-branch arms have moved? And you've wondered . . . what do snowmen do when we're not watching?
After an early snowfall, a few kids build some snowmen before going trick-or-treating. And when the kids go off to bed, the snowmen have their own Halloween festival! There's candy and apple-bobbing and costume contests and all sorts of autumn activities. When the kids wake up the next morning, the snowmen are gone… but they've left a very special message behind.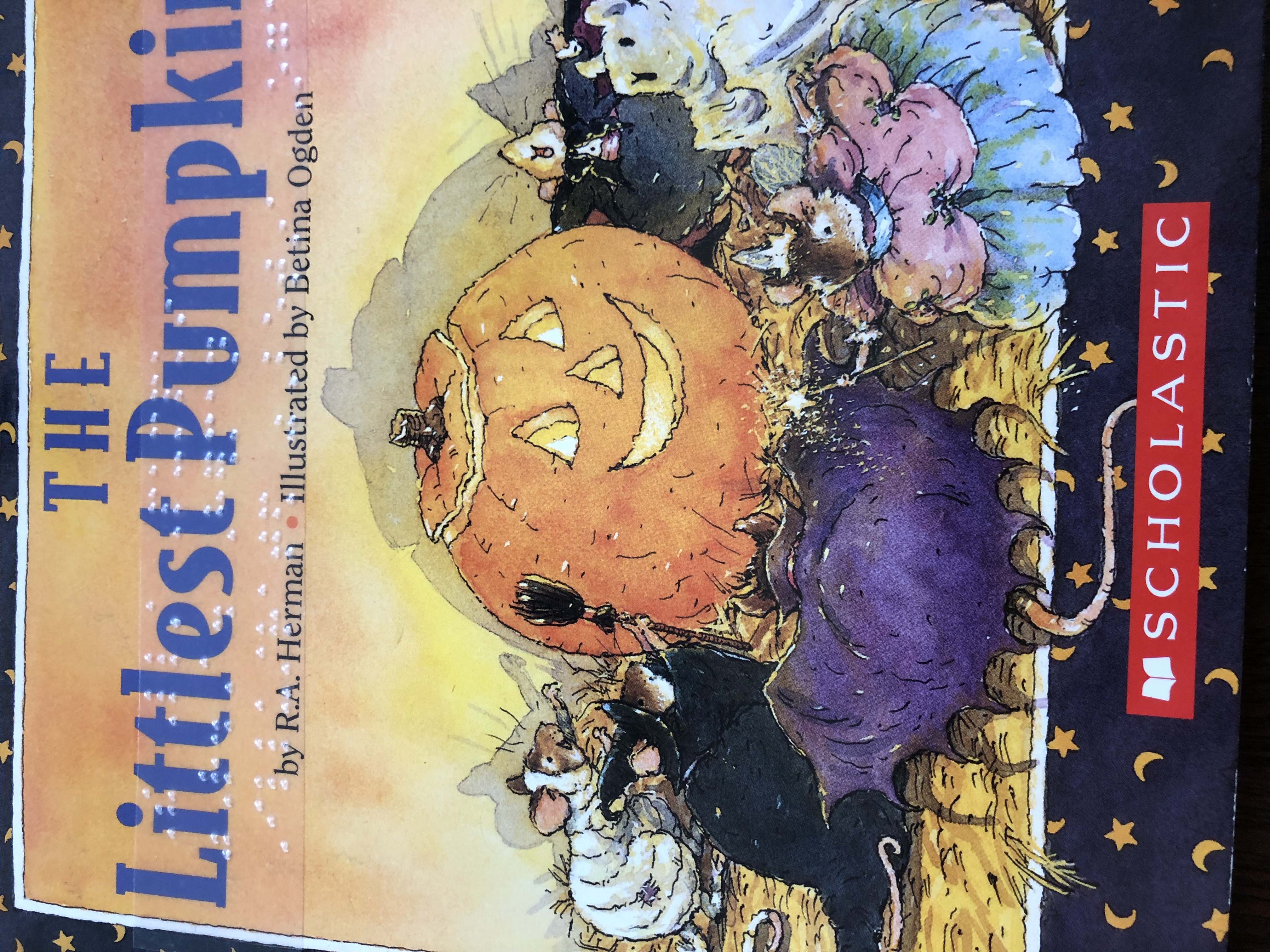 The Littlest Pumpkin
By R.A. Herman
Description
When Bartlett's Farm Stand closes for the season, the Littlest Pumpkin, who longs to make someone happy for Halloween, is devastated to be the only pumpkin left, but when a group of mice come along, they make the Littlest Pumpkin the happiest pumpkin in the world!


The Ugly Pumpkin
By Dave Horowitz
Description
In time for Thanksgiving, a wacky twist on The Ugly Duckling.
The Ugly Pumpkin has waited all through October for someone to take him home, but no one wants him. He doesn't look like other pumpkins. So the lonely Ugly Pumpkin leaves the patch in search of a place where he'll fit in. By the time Thanksgiving arrives, he discovers the truth about who he is–but it's not what he expected!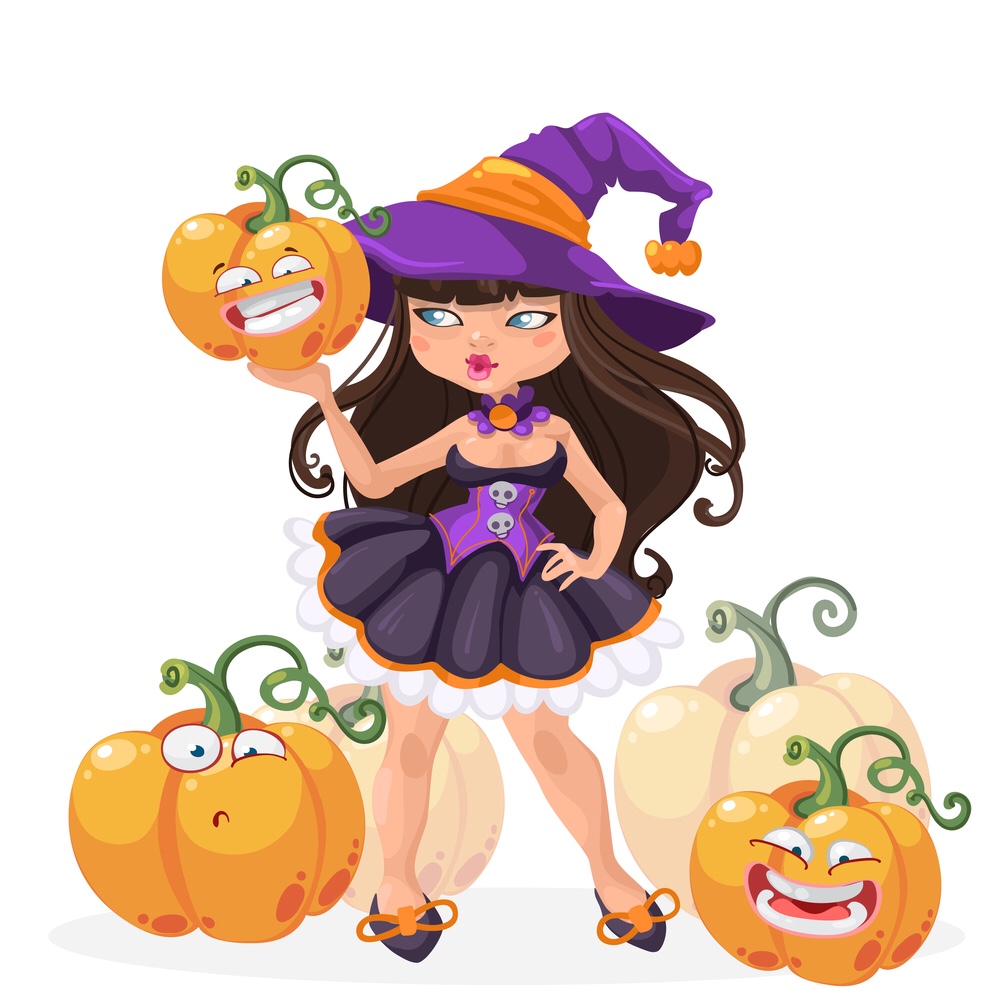 Room on the Broom
By Julia Donaldson
Rosebud loves this book and the movie they've made as well. It's a great book about friendship and including others.
Description
The witch and her cat are happily flying through the sky on a broomstick when the wind picks up and blows away the witch's hat, then her bow, and then her wand! Luckily, three helpful animals find the missing items, and all they want in return is a ride on the broom. But is there room on the broom for so many friends? And when disaster strikes, will they be able to save the witch from a hungry dragon?
Too Many Pumpkins
By Linda White
I haven't read this one yet with Rosebud, but it was always a hit with my preschool classes.
Description
What can you do with too many pumpkins?
Rebecca Estelle has hated pumpkins ever since she was a girl when pumpkins were often the only food her family had. When an enormous pumpkin falls off a truck and smashes in her yard, she shovels dirt over the pieces and forgets about them. But those slimy pumpkin smithereens sprout up in autumn, and Rebecca Estelle finds a sea of pumpkins in her garden.
A heartwarming classic for more than twenty years, this story shows what happens when one thrifty gardener figures out how to make other people happy with the squash she can't stomach.
Filled with colorful illustrations from a season of gardening, this is a perfect book for young gardeners and pumpkin lovers. Its wonderful lesson about helping others can be appreciated in the classroom or at home.
Ghosts in the House
By Kazuno Kohara
I haven't read this one yet, but it looks like a cute story.
Description
JUST THE RIGHT MIX OF SWEET AND SCARY for the youngest trick-or treaters
At the edge of town lives a clever girl with a spooky problem: Her house is haunted! Luckily, she happens to be a witch and knows a little something about taking care of ghosts. She catches them, puts them in the washing machine, airs them out to dry, and gives them new lives as sofa covers, table cloths, and, of course, bed sheets to cozy up under. Fresh and charming illustrations in dynamic orange, black and white bring this resourceful heroine and these spooky ghosts to life.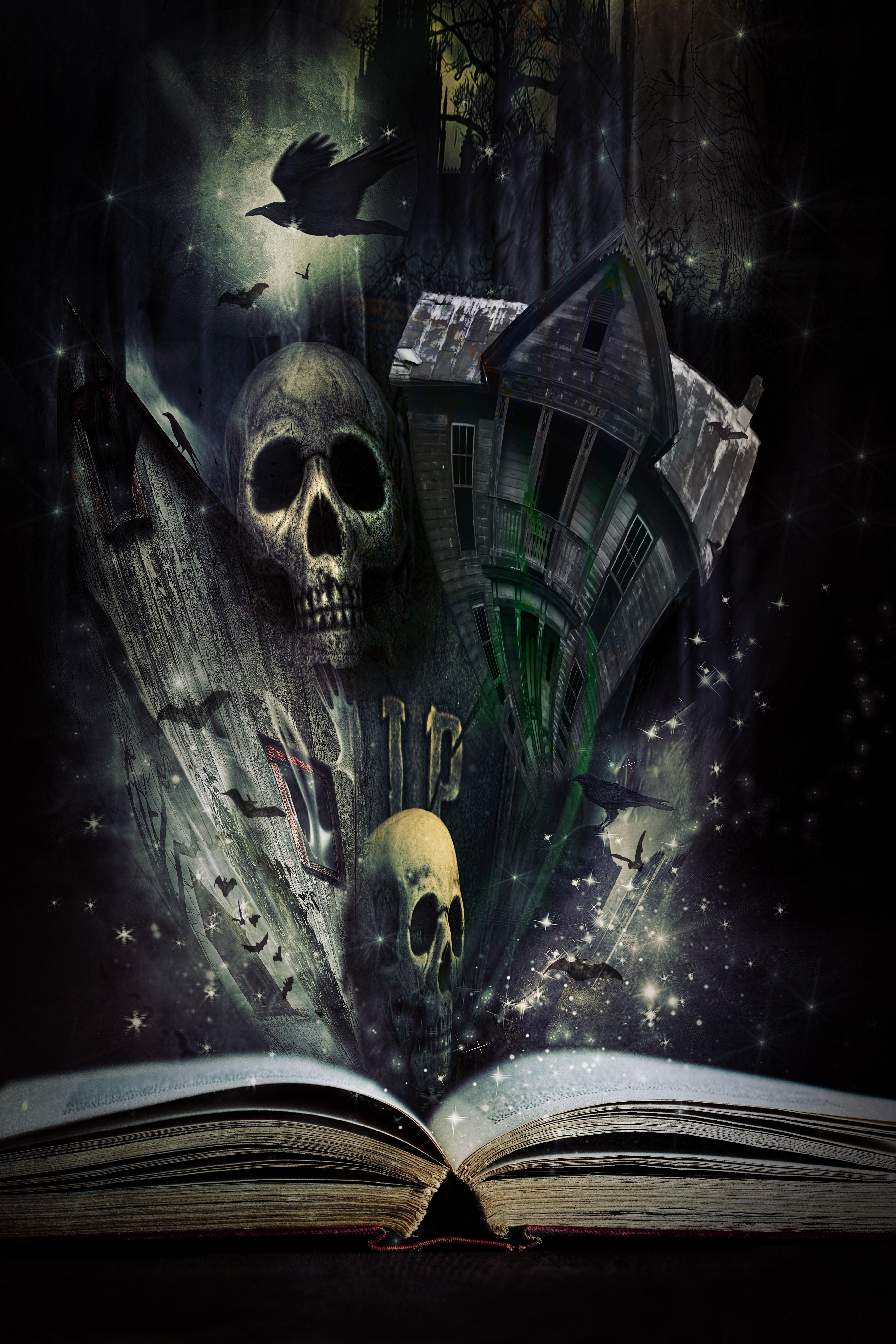 The Vanishing Pumpkin
By Tony Johnston
Description
A classic Halloween story about a pumpkin gone missing is certain to delight readers of all ages!
When a 700-year-old woman and an 800-year-old man want to make pumpkin pie on Halloween, they can't find their pumpkin. "Our pumpkin's been snitched," cries the woman. And off they go to find it.


How to Make Friends With a Ghost
By Rebecca Green
Description
What do you do when you meet a ghost? One: Provide the ghost with some of its favorite snacks, like mud tarts and earwax truffles. Two: Tell your ghost bedtime stories (ghosts love to be read to). Three: Make sure no one mistakes your ghost for whipped cream or a marshmallow when you aren't looking! If you follow these few simple steps and the rest of the essential tips in How to Make Friends with a Ghost, you'll see how a ghost friend will lovingly grow up and grow old with you.
A whimsical story about ghost care, Rebecca Green's debut picture book is a perfect combination of offbeat humor, quirky and sweet illustrations, and the timeless theme of friendship.

Ten Timid Ghosts
By Jennifer O'Connell
I'm glad I found all these ghost books because Rosebud wants to be a ghost for Halloween. These will be perfect.
Description
This bestselling counting book for beginning readers is filled with ghosts, a witch
and spooky fun!
It's Halloween, and ten timid ghosts in a haunted house have a problem: a mean witch has moved in and is planning to scare them out, one by one! Young trick-or-treaters learn to count down from ten to one as each ghost flees from the witch's silly costumes and homemade props. When the homeless ghosts gather in the woods, their fear turns to determination and they plot to get their house back. Will the ghosts frighten the witch away in time for Halloween night?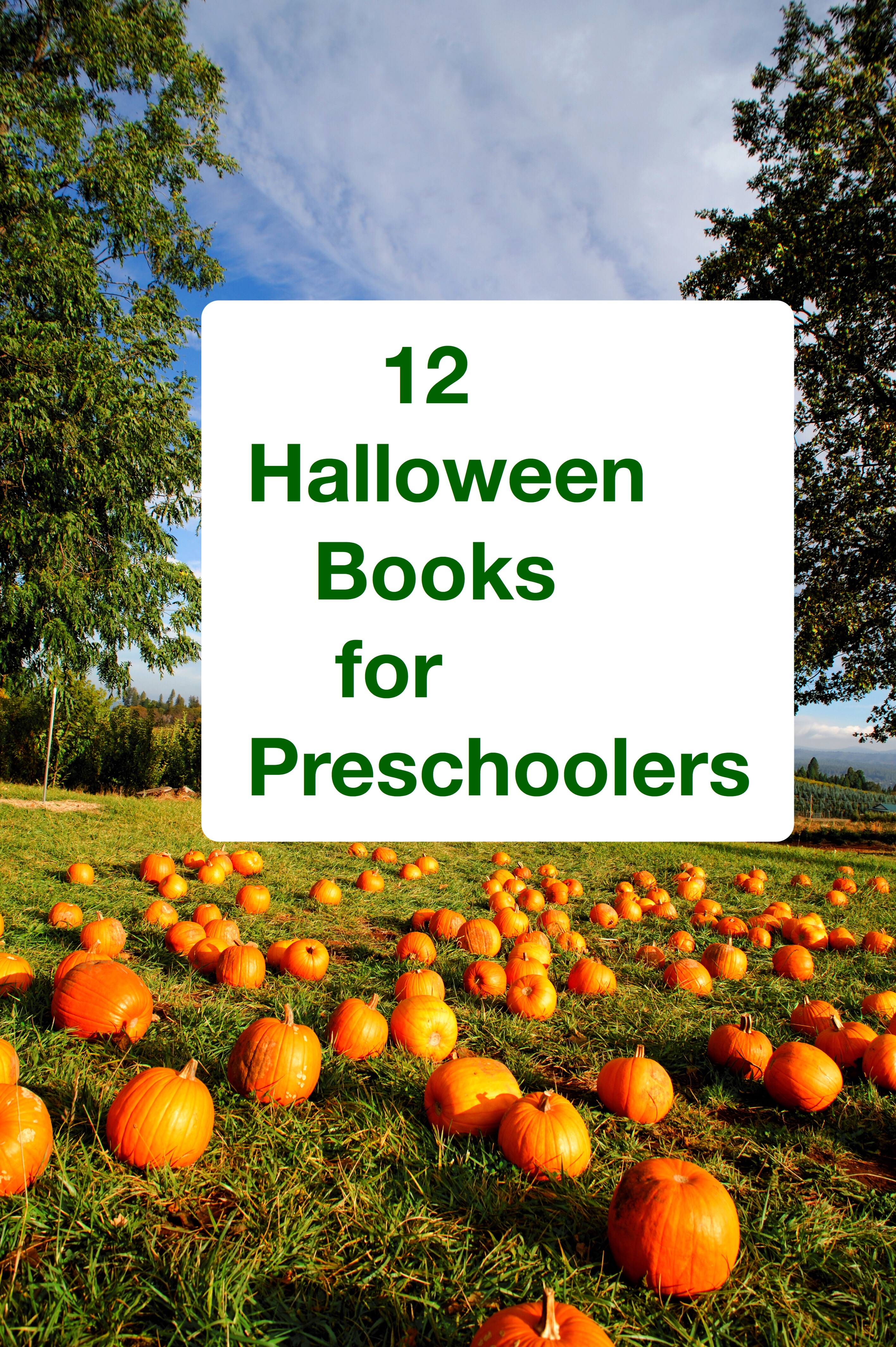 What are your favorite Halloween books? Tell me in the comments. Happy reading!